Wow! What a week. I'm sure most of you guys that read this blog have been following the events in Japan. Just seems to be going from bad to worse for those living in the north of the island. The images shown have been of devastation that is quite frankly, out of this world. Of all the nations on earth though, you can bet it's the Japanese that'll bounce back from something like this and hang a 'business as usual' sign from their door.
*** Just read
this
post by Jed of Oriental Angler Store in Japan. It's his account of the earthquake and his efforts to get home to his family***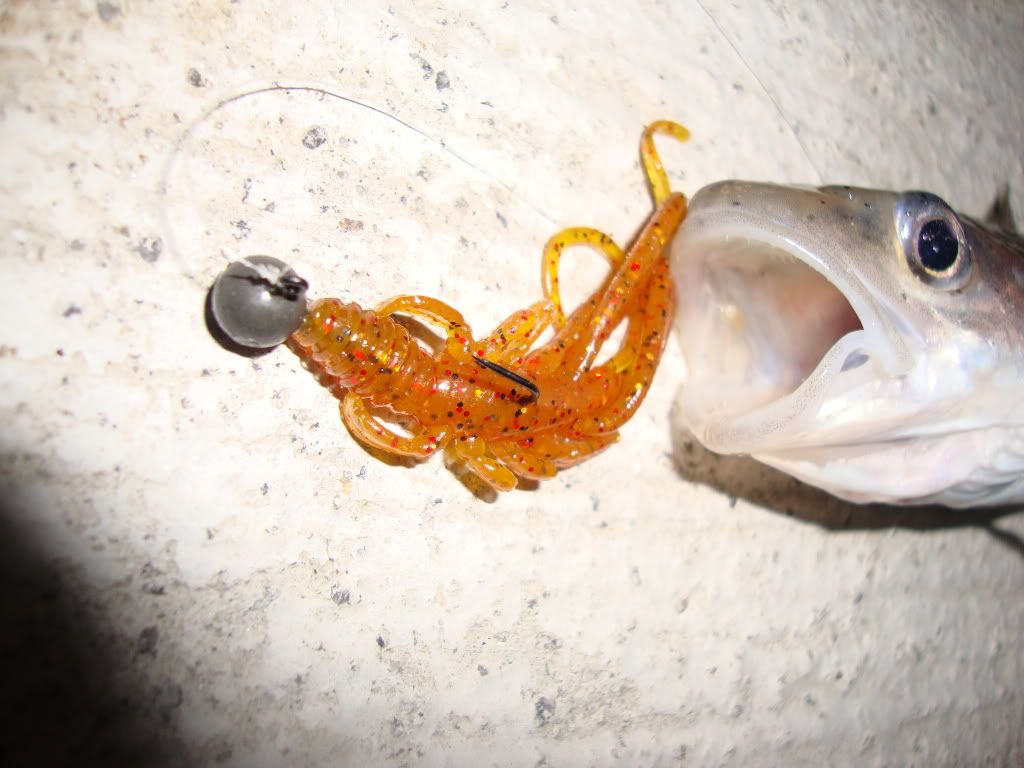 The last few sessions have seen 'bug' baits proving their worth, claiming multiple species in multiple sessions. Generally speaking, these baits are a bit of a mouth full - so the takes are usually with some gusto. I'm finding these work best on a twitched retrieve, or slow lift and fall. Think of the way a shrimp darts around, or even better - a squat lobster, which is probably the best profile match for these baits.
Last night was the fortnightly Plymouth meet, fish were caught and good banter was flowing freely. The vibe at these meets is definitely that of a social event. A good chance to have a natter about techniques and tackle. It was mentioned though, sometimes this can have a negative effect on your fishing. It's all too easy to stand in one spot chatting for an hour - Obviously that's fine if the fish are in front of you, but remember to move on if they aren't biting. This was proved last night, when Ben suggested a move around the corner after bites dried up - We were in to fish almost instantly.
Yet again, a new face attended to check out the growing LRF scene. From my brief chat with him, he was most definitely a level headed angler with an open mind. Coming from a coarse fishing background, he had a good understanding and knowledge of the attraction around light tackle. He did however point out a few things, from a non participant point of view. Expressing that LRF'ers seem to over hype and maybe put too much emphasis on the technical side of things, making it seem a little daunting and elitist to those who are on the outside looking in. The thing people need to understand with this stuff, is that there are a whole bunch more ways to catch a fish - on-the-drop, twitch and pause, shakey, lift and drop etc. To those who are used to cast and retrieve plugging or spinning, it's a world apart. But it IS easy to learn. That's really the problem, you need to get out there and have a go to appreciate what it is all about and how these simple, but highly effective techniques work.
This Sunday I've got a trip planned down to Cornwall targeting estuary Bass, but with an added bonus of hooking a Sea Trout and I'm also told, Salmon. Should be interesting!
Please check out Paul Gunning's awesome blog
'Smells Kinda Like Fish'
. He's been out literally destroying the Wrasse on lures this week - both HRF and LRF! He's a cool guy to fish with and has learnt a huge amount about lure fishing in a relatively short space of time. His is probably the best presented 'amateur' blog out there at the moment, with real good content. Well worth adding to your favourites list!